The peculiarity of this instrument is the material with which it is made: it is in fact a wood that has been preserved for almost 6,000 years under the bottom of a river, maintaining the main physical characteristics of the wood but assuming an intense black color.
This electric guitar represents a "one piece", being currently the only instrument in the world made entirely (neck and body) with such an ancient wood.
The body was deliberately "cracked" to simulate a personal interpretation of the Japanese "kintsugi" technique, literally "repair with gold".
This ancient Japanese technique consists in recovering broken objects, mostly pottery, to give new life, not only repairing them but exalting the fractures with precious materials, mainly gold powder.
The structure of the guitar is the same as the other models of the "Hasaki" series. The main element, in the back of the guitar, is a sort of backbone made of aluminum on which all the components of the instrument are directly connected: neck, pickups and electronics. The body, made of wood, is literally suspended in four specific points and is free to vibrate and amplify the vibrations transmitted by the strings to the bridge, the only element in contact with the wooden body.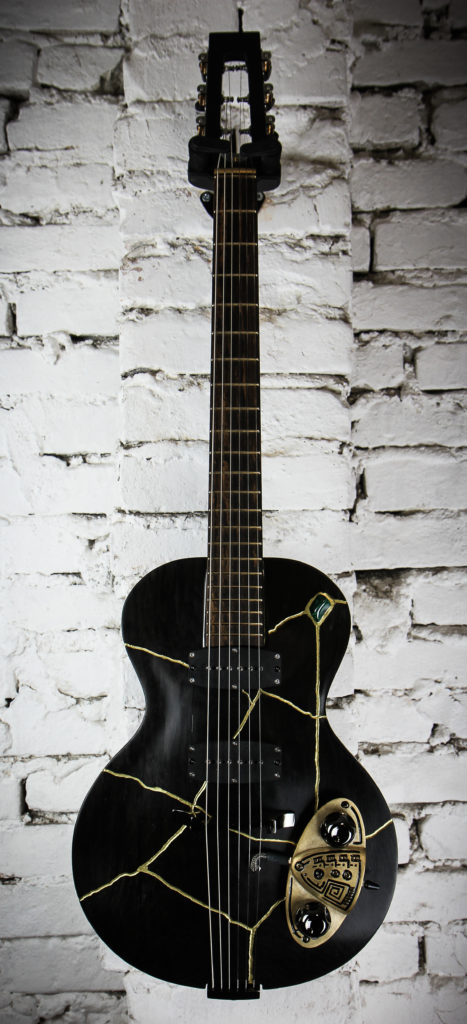 FEATURES
Body: Bog Oak (6,000 years old)
Neck: Bog Oak (6,000 years old)
Fretboard: Bocote
Scale: 635mm (25″)
Frets: Gold EVO®
Side dots: Murano's murrine glass
Aluminum frame: Black Nickel
Pickups: 2 Custom didonato's SC
Finish: Kintsugi 22k gold powder
Capacitor: None
Controls: 2xVOL, PEC® 500k – Log
I consider this guitar to be an installation because I decided to present it in an unconventional way, making it part of a painting. To do this I was helped by the talented Giulia Valente, such a good photographer that perfectly interpreted what I had in mind and was able to literally paint a wonderful composition with her camera. With the help and the beauty of Rossella Perversini, the result is sensational.
pictures by Giulia Valente, model and makeup by RossyGlossy